---
Uh Oh!! Hahwee Weed got caught in a wittew bit of hypocrisy! Just like Elijah Cummings trying to deflect attention from Lois Lerner and the IRS scandal because he's involved in it up to his eyeballs, and Obama demonizing "Evil Wall Street™" while turning right back to them for campaign donations, Harry Reid has been attacking the Koch Brothers like Rain Man asking to go to K-Mart for new underwear (here's the evidence: http://weaselzippers.us/182455-video-all-134-times-harry-reid-has-mentioned-the-koch-brothers-on-the-senate-floor/) while at the same time taking money from them. Psychologists call this "PROJECTION." It's a defence mechanism where the liar projects his own hidden desires and impulses onto someone else. Democrats and progressives are MASTERS of projection.
This is the ONE time that Harry Reid is right that "Koch funded politicians are destroying America."  Yes, Harry.  You are destroying America.
---
Add Senate Majority Leader Harry Reid (D., Nev.) to the list of Senate Democrats who have benefitted from Koch money. In fact, he might as wellpay one of his grandchildren to stitch Koch insignias onto his suit to denote their sponsorship: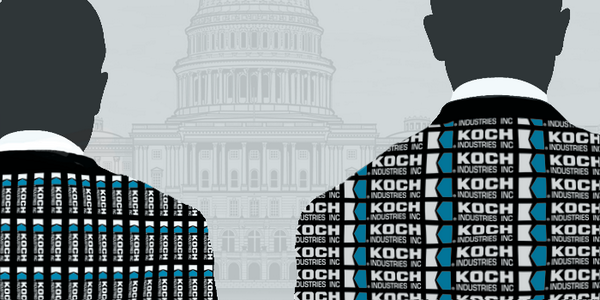 According to campaign finance records, former Koch Industries lobbyistRobert P. Hall III donated $500 to Reid's campaign in 2003.
Hall worked for Koch Industries from 1998 to 2004, according to the Center for Responsive Politics. He was previously a lobbyist for INVISTA, the Koch Industries subsidiary that Democrats are targeting in their latest campaign to "other" the Koch brothers. Hall currently lobbies for General Electric, the chief sponsor of explanatory journalism website Vox.com. Coincidence? Maybe.
In public, Reid has attacked the Kochs as "un-American" and "against everything that's good for America." This is not surprising, however, given the fact that Reid is a raging hypocrite.
The revelation that Reid is a Koch-funded politician comes days after the majority leader's former colleague, Hillary Clinton, was caught discussing her upcoming memoir at the David H. Koch Theater in Manhattan.
Koch-funded politicians are destroying America!
Link to article:  http://freebeacon.com/blog/harry-reid-took-money-from-koch-lobbyist/
+
+
---
---
Filed under: Corruption, Exceeding Constitutional Authority, Media Bias, Opressive Government, Progressivism | Tagged: Barack Obama, campaign donations, Corruption, democrats, Elijah Cummings, Harry Reid, IRS, Koch Brothers, liars, lies, lobbyist, Lois Lerner, lying, projection, tyranny, Wall Street | Leave a comment »