This is the same folly as attempting to try terrorists caught on a battlefield in a civilian court. Since all of the people being indicted here are RUSSIAN MILITARY, this is a MILITARY, NATIONAL DEFENSE, and DIPLOMATIC matter. The appropriate response to this is to bolster our cyber countermeasures, and increase our cyber warfare abilities and efforts.
This is basically a weak, feckless attempt to save face for the Mueller probe, and for the FBI corrupt leadership.
+
---
---
Robert Mueller Indicts Russian Intel Officials for DNC Hack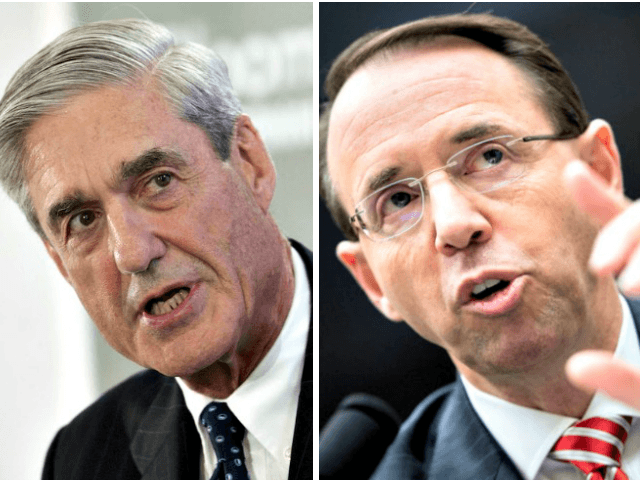 Deputy Attorney General Rod Rosenstein announced Friday that Special Counsel Robert Mueller's prosecutors have secured an indictment against 12 more Russian nationals, this time in specific relation to the 2016 Democratic National Committee (DNC) hack.
All 12 defendants are Russian military intelligence operatives who, according to Rosenstein, created and used the "DCLeaks" and "Guccifer 2.0" identities to leak the information they stole from the DNC while implying they were Americans. According to the indictment, the Russians used basic "spearphishing" email and malware techniques to illegally gain access to the DNC's servers.
As with Mueller's previous indictment against Russians, there is no evidence of "collusion" with any American in any of the defendants' alleged crimes, as Rosenstein emphasized in his announcement. Nor is there any allegation the Russian intelligence officers' alleged crimes in any way affected the outcome of the 2016 election. "There is no allegation in this indictment that any American citizen committed a crime. There's no allegation that the conspiracy changed the vote count or affected any election result," Rosenstein told reporters.
Continue reading →
Filed under: Corruption, National Security, Opressive Government | Tagged: collusion, conspiracy, DCLeaks, DNC, DNC servers, election, email, Guccifer 2.0, hacking, intelligence, malware, Mueller, Rod Rosenstein, Russian military, spearphishing, special prosecutor | Leave a comment »